St. Vincent's Feast Day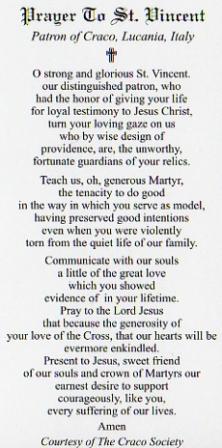 October 25th is the feast day of St. Vincent, an early
Christian martyr and Patron saint of the small southern
Italian town of Craco. Craco is located in Matera
Provence, Basilicata about sixty miles south of San Fele.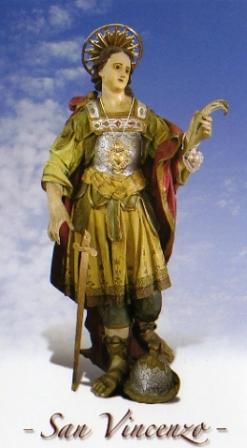 St. Vincent was born in Egypt and was a commander of a Christian legion in the Roman army. While the legion professed its loyalty to Rome the unit refused the command of the Emperor to offer sacrifice to the Roman pagan gods. As a result, the entire unit was executed for their faith. It has been noted that while the unit was fully armed they made no resistance to their own deaths, so strong was their faith and resolve.
On October 23-25, 2009 the Craco society made a weekend trip to
New York City and Brooklyn. While there they visited many sites
relevant to their group's heritage. Like many towns in Basilicata,
Craco saw many of its sons and daughters immigrate to the lower
East side of New York City in the late 1800's. Poor Italian immigrants,
primarily from Basilicata, initially settled in what was then known as
the Five Points area. The area saw the establishment of the first
Italian-American parish, St. Joachim, administered by Italian priests
and nuns in the mid 1880's. In this parish the Italian immigrants could
practice their faith and keep alive their regional customs and traditions.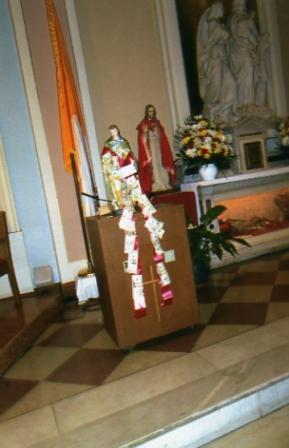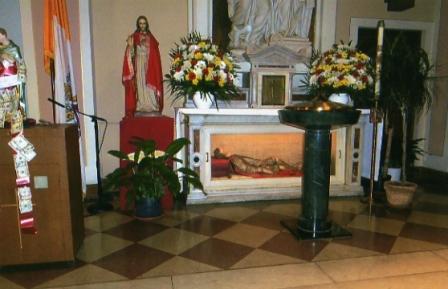 Small Statue of St. Vincent
St. Joseph's Church New York City side alter. Statue to left
is St. Vincenzo. Under the alter is reclining statue
of St. Vincent originally donated to St. Joachim's
Church by Craco Society Early 1900's.
The Five Points presented living conditions that made it one of the poorest and unhealthiest slums in the US at that time. The Italians often clustering in enclaves comprised of fellow Italian immigrants had little material possessions available to them. Nevertheless, they somehow collectively worked to raise funds that were used to build churches and decorate them with reproductions of images of the Patron saints of the towns of their origins.
Many of these reproductions were donated to St. Joachim's parish and resided there until the Church was torn down to make room for an urban renewal project in the mid 1960's.
Most of the Church artwork then was transferred to the newer,
1920's, St. Joseph's Parish in New York's Little Italy neighborhood
where some of it can be viewed today.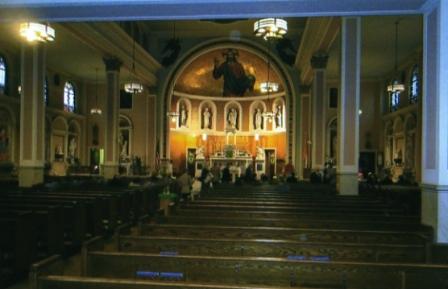 On this past October 25th I was honored to accept an invitation
from the Craco Society to join them at St. Joseph's Church to
celebrate the feast of their patron saint, St. Vincent. There
beneath the side alter encased in glass is a replica of the original
Craco statue of a reclining St. Vincent that was donated to
St. Joachim's parish by immigrants from that town in the late
1800's. Also contained within the glass enclosure is a box
containing the relic, a bone fragment, of San Vincenzo carried from
Italy by these early immigrants from Craco.
St. Joseph's Church New York City
It was inspiring to see how the power of faith and a shared common heritage could bring people separated from the original immigrant experience by many generations, together. We should be grateful that the religious artifacts which our ancestors struggled so had to insure had a place of honor in the US are being preserved in heritage churches like St. Joseph's.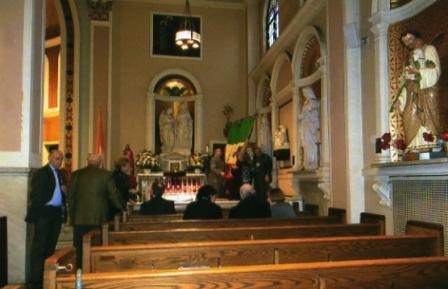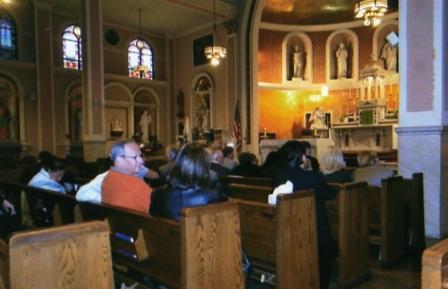 Members of Craco Society celebrating St. Vincent's Feast Members of Craco Society decorating the alter
Patron of Craco, Italy October 25, 2009 at St. Joseph's Church before services
October 25, 2009

© San Felese Society of New Jersey