Societa' Femminile Sanfelese Madonna Assunta di Pierno
Our San Felese Society in Central New Jersey was incorporated as a 'brotherhood" or all male organization in 1902. It's purpose and mission has always been the welfare of the community. With the Society's family orientation and focus there was originally no need for a separate San Felese "sisterhood" society to form. A need however was determined by the community with the advent of World War II.
With national mobilization the community found many of it's young people answering the call for military duty. Mothers, sisters and wives found their loved ones engaged on the front lines of a global conflict. In our own community men in uniform found themselves in harm's way from the moment of the attack on Pearl Harbor.
As a result of the conflict the ladies of the community formed the Societa' Femminile Sanfelese Madonna Assunta di Pierno on June 9th, 1942. The traditional special devotion to the Madonna as protector in times of peril especially in times of war follows the community's long history
We have not located a record of the original membership but thanks to the rescue efforts of Joan Krammer and Donna Ecker we are able to preserve a copy of their original membership card. Through Joan and Donna's efforts we were also able to reconstruct the Societa' membership roster from 1958.
We would like to acknowledge that it was the Societa that organized the fundraiser to refurbish our Trenton Statue of the Madonna in the late 1960's. While many of the ladies on the membership roster are no longer with us we acknowledge their many contributions through the years. We are including the 1958 list on our webpage so that their efforts are not overlooked. Our membership today in an "all inclusive male and female San Fele Society" reflects many of the descendants of the women on the roster list.
Original Membership Card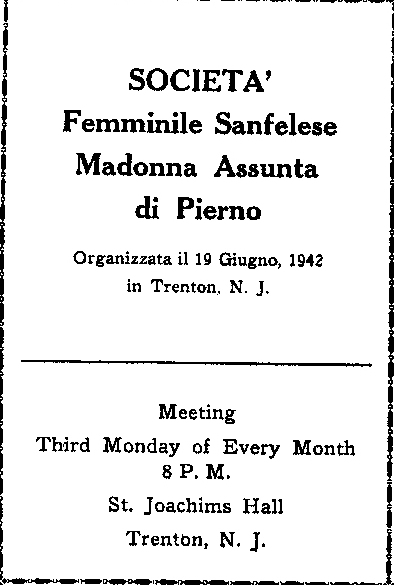 1958 Membership Roster
Theresa Andreaccio Adeline Baldassari Maria Brugnoli Catherine Buchino Maria Capone Lugresia Carlucci
Myrtle Carpenter Carmela Chiavone Maria Cifelli Carmela Consention Philemena Crecco Mary Cucinotta
Jennie DeAngelo Maria DeAngelo Maria Donato DiLeo Maria DiPaola Nancy Edwards Catherine Fabrizio
Agnes Fasanella Marguerita Felcone Immaculata Frascella Jennie Frascella Lucy Frascella Josephine Gallello
Mary Giordano Agnes Graziano Angelin Grosso Theresa Guarino Vita Maria Gugliemelli Marian Hoffman
Mary Hornyak Angela Joseph Rose Lagana Theresa LiVolsi Josephine Maiorino Theresa Mancuso
Josephine Manto Agnes Matera Lucy Miktus Jennie Montani Rose Muscante Catherine Petrino
Mary Petromany Rosa Pinto Brigita Puglise Maria Pulone Theresa Radice Maria Ricigliano
Philomena Ricigliano Josephine Rosati Maria Rubino Catherine Ruskai Maria Russo Nancy Russo
Angelina Sapio Lucy Scatuocci Maria Sista Carmela Stia Maria Sylvester Philomena Tarangelo
Catherline Tomasulo Theresa Vitella Elizabeth Yano
© San Felese Society of New Jersey