THE VATICAN ON THE DELAWARE
GIOVANNI BATTISTE SARTORI: VATICAN ECONOMIC ENVOY TO THE U.S. 1800-1832
BY: TOM FRASCELLA JUNE 2012
In the late 18th and early 19th century the town of Trenton saw a steady stream of notable individuals whose origin was the Italian peninsula passing through. Artists, scientists, poets, opera singers, classical musicians and the like often stopped in Trenton on the way to the larger cities of Philadelphia and New York. Often, these individuals gave lectures, scientific demonstrations and concerts for the entertainment of the local folk. However, there is no record of any Italians taking up residence in Trenton before 1800.
The year 1800 saw the arrival of one Giovanni Battiste Sartori to Trenton. Mr. Sartori the first recorded Italian to take up residence was not an immigrant to the U.S. or a visitor but rather a diplomat to the U.S. In 1800 Mr. Sartori presented diplomat papers to the U.S. Government as Consul and Economic Emissary to the U.S. from the "Papal States" of Italy. His appointment as ambassador was made directly by Pope Pius VII (1800-1825).
Mr. Sartori's arrival both to the U.S. and to Trenton presents a unique historical event. As far as my research went Mr. Sartori was the first secular envoy sent to the U.S. and the only foreign ambassador to the U. S. to establish his principal consulate in Trenton in those early years of our Republic. Mr. Sartori and his consulate would remain in Trenton for 32 years. During that time he would marry, raise a family and make a number of interesting contributions to American and local culture and history. However, we should keep in mind that first and foremost as a diplomat his activities centered on his European responsibilities more than his local contributions. To understand Mr. Sartori's place in history some general background concerning his family history and how he came at the age of twenty-five to be appointed is needed.
FAMILY BACKGROUND
Giovanni Battiste Sartori (1775-1858) was born in Liverno Italy a port city on the west coast of Italy in northern Tuscany. Americans sometimes refer to this city as Leghorn. He was the son of Carlo Sartori (1735-1810) also of that city. The Sartoris were a merchant family and Carlo became a noted "Artisan" jeweler of the Roman school of design. In mid to late 18th century Europe Carlo Sartori became one of the top four or five "Artisan" jewelers in Europe and therefore held a world reputation among the elite consumers of the age.
In his lifetime Carlo Sartori's jewelry designs would have been custom commissioned and worn by only the elite noble and royal personages of the day. Examples of his work for the royal houses can to this day be seen in many museum collections from Russia to England. Included among his patrons would also have been not only Kings, Queens and Princes but also Cardinals and Popes. A number of his designs were commissioned for religious objects for the great churches of Europe including St Peter's in Rome. When Pope Pius VI became Pope (1775-1799) Carlo Sartori's work came to his attention and a number of Papal items were crafted by Sartori for this Pope. It is clear from examining Vatican documents of the era that Pope Pious VI admired and trusted the artistry of Mr. Sartori as a number of his personal official garments were designed and crafted by him.
As you can see from Pope Pius VI dates of office this was an interesting time in Europe and the U.S. Both the American and French Revolutions occurred during this period. Without getting into too many political details Pope Pius the VI was not a fan of the treatment of the Church within the philosophy and by the actions of the French Revolutionary Republican Government. This philosophical clash between the Revolution and the Church as both a spiritual entity and a Papal State of Italy resulted in actual military conflict between the Papal States and France in the mid 1890's. Unfortunately for Pope Pius VI the conflict coincided with the rise of Napoleon Bonaparte as first a military leader and then the political leader of the Republic in that decade.
Bonaparte was able to easily sweep aside the forces of the Pope and Pope Pius VI was forced to sue for peace by the mid 1890's. As a condition of peace the Vatican was obligated to pay to France about 21 million francs. About 5 million francs were received in the form of ceding territory but the bulk of the obligation had to be raised in currency.
Pope Pius VI was forced to look to the Vatican treasury and to raise money by selling art objects, gold and jewelry from the Vatican vaults. It should be noted that many of the jeweled objects and art from the Vatican treasury were centuries old and the sale resulted in the dismantling of jeweled garments and melting down of religious vessels that were priceless art in their own right.
Napoleon recognized that the transfer of currency of this size was of enormous importance to his military ambitions. He also appreciated that the process of transfer presented great temptation and opportunity for theft. The Pope also recognized that dismantling the treasury presented enormous opportunity for theft and greed by those involved. In order to minimize theft Napoleon saw to it that the transaction was conducted under the careful watch of his older brother Joseph Bonaparte. The Pope for his part entrusted the dismantling and reselling of the Vatican jewels to his personal jeweler Carlo Sartori. History seems to record that the transaction was conducted to everyone approval and Carlo Sartori became known thereafter as the Pope's Jeweler. The relationship between Napoleon and Pope Pius VI remained strained and the Pope finished out the last few years of his reign a virtual prisoner of the Republic under house confinement in papal palaces in France until he died in 1799. As Carlo Sartori played a major role in the liquidation and transfer of the Papal treasure it is likely that he and possibly his son Giovanni would have met or at least been known by their French counterparts including Joseph Bonaparte.
As an interesting side note at the time this was taking place the U.S. owed France millions of Francs as a financing debt for loans acquired from France during and just after the American Revolution. After the French Revolution disposed of the Monarchy the U.S. took the position that the debt was owed to the French Monarchy not the Republic. Our initial Presidents took the position that with the execution of the French King the debt was erased and no longer valid. This position was not received well by the French and resulted in hostilities between the two countries which I have previously written about.
Upon the death of Pope Pius VI a new Pope was elected, who was a cousin of the old Pope. The new Pope took the Name Pope Pius VII (1800-1825). The new Pope was well aware of the service, trust and loyalty that the Sartori family had shown the last Pope. Carlo Sartori remained a favored artist jeweler to Pope Pious VII and an example of Carlo's work can been seen below.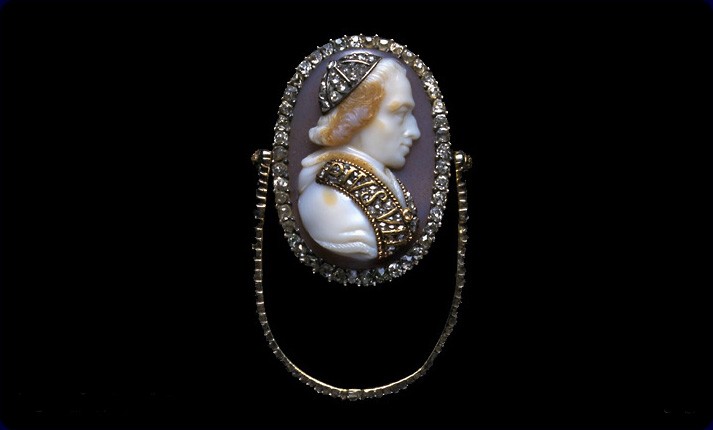 Jeweled Pendant with likeness of Pope Pious VII believed designed by Carlo Sartori.
Pope Pious VII determined that a more conciliatory approach to the Bonapartes and the ideals of Republic would be a better political approach than the one used by Pope Pious VI. During his reign he attempted when possible to maintain a working relationship with the Bonapartes. I believe however that he also recognized that the U.S. refusal to pay their debts to France and the hostility that ensued made the U.S. a potential ally. Since the U.S. was not regarded as a "Catholic" country a secular envoy may have been seen as a diplomatic way to bridge the gap with U.S. leadership. For this mission to the U.S. Pope Pious VII placed his trust in Giovanni Battiste Sartori naming him Papal economic envoy in 1800. Sartori arrived in a predominantly Protestant U.S but one which included a large number of French nobility which had fled the early excesses of the French "Reign of Terror".
SARTORI'S ARRIVAL IN THE U.S.
Giovanni Battiste Sartori arrived on American soil in the first decade of our country's history. It was a time when our young Republic was struggling to establish itself on the international diplomatic and economic scene. His presence would have been considered a positive international development and it appears he was warmly received by the U.S.
State Department. New York and Philadelphia were the two major international economic centers at that time. Trenton's geographic location between these two major economic centers with easy access to either may have been one of the factors that brought Sartori to Trenton.
Once in Trenton it appears that Sartori became a well known person within the international merchant/ French ex-patriot community which was also centered in New York City, New Jersey and Philadelphia. Trenton was at the time a small town of only about 5,000 people. There were a number of light industrial businesses present in the community but they were being conducted at almost a cottage industry level. Nevertheless Sartori did see to it that his initial economic activities included participation in local business. Early on in his stay he began the construction of a stately mansion on the Delaware as his personal residence and consulate. The residence was located just south of Trenton proper in a suburban area known then as Lamberton. The mansion when completed in 1804 was named "Rosy Hill". He also purchased a local wool dying concern in Trenton and started a small "maccaroni" manufacturing facility. This Macaroni factory is considered the first commercial pasta factory to be set up in the U.S.
It is not known if he arrived in Trenton alone or with an entourage of fellow Italians. A person of his "official" position would likely have had Italian servants and possibly a secretary to conduct diplomatic business. Local press articles are silent on the question of others who may have been part of his local group. They are also silent as to whether he employed any Italians in the two local businesses he started including who contributed the labor for the macaroni making. It is also likely that if his group included fellow Italians he might of encouraged to engage in independent commercial activity. The only reference that sheds some light on this is an advertisement in the name of a Peter Bettini who in 1802 is also residing in Lamberton and advertising the sale of prepared fish sold by the barrel from Bettini's Lamberton store. So, at least a few other Italians were clearly in residence in Trenton at this time.
MACARONI IN U.S. FIRST MADE COMMERCIALLY IN TRENTON N.J.
Pasta or Maccaroni as 18th century Americans would know it started to become a popular dish in Italy and France in the mid to late 18th century. It is known that Thomas Jefferson was introduced to it while on diplomatic station in France in the 1780's. Jefferson had many interests including cooking and food preparation especially what he considered exotic foreign dishes. There are a number of references to "maccaroni" in the personal writings of Jefferson. By the way he spelled it with two C's and used it as the generic term for pasta. He was familiar and impressed enough with the dish to opine that the best maccaroni noodles came from the Naples region. He was so taken with macaroni that before returning to the U.S. from France in 1789 he had a protégé William Short purchase a macaroni mould for him from Naples and ship it to the U.S. It is believed that the mould was with him upon his arrival in Philadelphia in 1790 and is listed in the household items then shipped to Monticello in 1793.
From Jefferson's papers it is clear that enjoyed Maccaroni enough to even attempt to design his own macaroni press. His description and design drawings survive among his papers.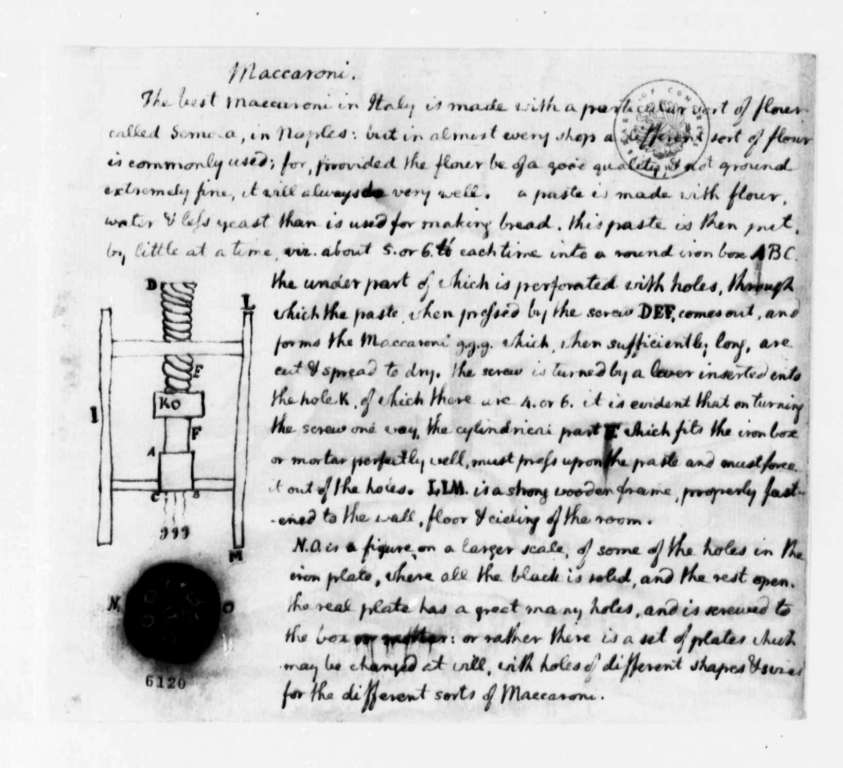 Jefferson's drawing for a Maccaroni press.
We would probably not know that Giovanni Sartori manufactured macaroni in Trenton but for Jefferson's papers. From his papers which includes correspondence with others it is apparent that Jefferson served macaroni at some Presidential dinners and the pasta came from Sartori's store. From Jefferson's notes it is apparent that Jefferson considered Sartori pasta very good and recommended it as a source for macaroni to friends.
For example from Jefferson's papers the following quotes appear;
1809 November 29. Pd. John B. Sartori of Trenton 8. D. for 2 boxes Maccaroni of 25 lbs. each.
1809 December 30. (Jefferson to Gordon, Trokes & Co.) " I have mentioned the article of maccaroni, not knowing if they are to be had in Richmond. I have formerly been supplied from Sartori's works at Trenton, who makes them well, and would be glad to supply you should the Richmond demand make it worth your while to keep them. I paid him 16 cents the pound."
What Jefferson liked was a relatively wide noodle version for use in what today we would probably call Mac and Cheese. From the internet I obtained the following Jefferson recipe for actually making homemade "macaroni". The recipe was originally written in Jefferson's own hand.
JEFFERSON'S MACCARONI RECIPE
6 eggs
2 wine glasses of milk
2 tb of flour
A(?) salt
Work them together without water, and very well.
Roll it then with a roller to a paper thickness cut it into small pieces which roll again with the hand into long slips & then cut them to a proper length. Put them into warm water a quarter of an hour.
Drain them.
Dress them as macaroni,
But if they are intended for soups they are to be put in the soup & not into warm water.
JEFFERSON'S MAC & CHEESE RECIPE
Jefferson preferred his pasta served in a form of what today we call Mac and Cheese.
Jefferson's Mac and Cheese was somewhat different than today's version. His cooks prepared the pasta until soft, coated the pasta with butter and added parmesan cheese imported from Italy. The mixture was placed in a casserole dish and baked until slightly brown and crusty on top. There are some documents included that suggest that he experimented with other additives, onions, scallions, and various herbs.
SARTORI'S TIME IN TRENTON
Sartori was a European Diplomat whose family business placed him from young adulthood in contact with Europe's elite noble and royal class. The French Revolution and subsequent "rein of terror" which lasted until the mid 1790's had forced many noble families to flee. Many French nobles settled between New York and Philadelphia and a wealthy and vibrant French ex-patriot community flourished in the tri-state area. Many of these Frenchmen had active interests in international shipping and also in American land speculation especially in the tri-state area. As a result of economic, cultural and religious connections Sartori began to develop close association with the displaced French community early on in his residency.
It is through this connection that he met Henriette de Woofin. Henriette was of noble birth. Her father Chevalier Marie Basil Gaston de Woofin had received an official appointment as an administrator to the French colony in Haiti in the mid 1770's. Her father married in Haiti in 1777 and the marriage resulted in the birth of a son in the 1770's and Henriette in 1787. Unfortunately her mother died about two years later and Henriette was sent to Paris to live with a relative, the Duchess of Gramont. For a brief period as a result of the family status the young Henriette was introduced to the court of Marie Antoinette. However, with the start of the French Revolution her relatives were among those that fled to the Trenton area in the U.S.. The French Revolution provided an opportunity for the slave rebellion in Haiti in 1790 which also forced her father and older brother to flee to Trenton where the family briefly reunited. Her father with his remaining resources purchased a mansion in Lamberton called Bloomsbury Court in 1792. Eventually the French would send an army to reclaim Haiti, and her father sold his Lamberton estate to finance his and his son's return to reclaim his lost Haitian estates. As a result the two de Woofin's joined the expeditionary French Force dispatched to Haiti. The expedition was a disaster with most of the French army dying of yellow fever and Haitian rebels capturing and killing many of the returning plantation owners. Both Henriette's father and brother were killed in Haiti in 1800. The young Henriette was thereby orphaned at age 14. Sometime thereafter Henriette met the newly arrived Giovanni Sartori and a romance between the two blossomed. In 1804 Giovanni Sartori age 29 and Heriette de Woofin age 18 married in Trenton and began their marital life at Giovanni's riverside mansion"Rosy Hill".
With the advent of the marriage Giovanni Sartori became even more involved and connected to the ex-patriot French community. Many of these exiled Frenchmen had long established contacts with American businessmen and political leaders dating back to the American Revolution. Some of these French nobles were actively involved in land speculation in the U.S. in the early days of our Republic. Sartori counted among his business and social connections two land speculators that should be mentioned as active and centered in the Trenton area. They are the French born American Jacques known as James Donatien Le Ray de Chaumont the eldest son of Jacques Donatien Le Ray de Chaumont one of the most ardent supporters of the American cause in France during the American Revolution and also the former French General Jean Victor Moreau.
Jacques Donatien Le Ray de Chaumont was a great friend and benefactor of the American Revolution. He provided the guest house at Chaumont free of charge to the American Continental delegates to France from the beginning of the American Revolution forward for a period of nine years. Chaumont became the American Colonies French Home in those troubling times. He also lent the colonies over two million francs during the Revolution for supplies and weapons from his personal funds. If this were not enough he equipped and armed several ships for use by the American navy including the "Bon Homme Richards" commanded by John Paul Jones. It is said that his son, James learned English from one of the Continental Delegates to France who was staying at the Chaumont estate, Benjamin Franklin.
James would eventually become an American citizen. Following the success of the American Revolution and the start of the French Revolution Jacques Le Ray's personal fortune waned. De4mand for repayment of the debt owed by the Colonies went largely unanswered and it was his son James who came to the U.S. seekin repayment. After several years and only with the help of Benjamin Franklin and John Adams were the LeRay's able to get some partial repayment. It is during this time that James while in America married an American woman and became a U.S. citizen. James also became acquainted with the U.S. land speculation of his countrymen who enlisted his involvement. James for a period centered his land speculation activity in up state New York while taking up residence in Burlington N.J. James was part of a French based Land group that purchased 100 square miles of land situated just below the eastern end of Lake Ontario and St. Lawrence River, the thousand island area. James Le Ray personally wound up owning over 250,000 acres, an area that covered roughly what today is four counties in Upstate New York.
The second figure I mentioned is General Jean Moreau. General Jean Moreau arrived in the U.S. from France in 1805 and in 1807 purchased three large parcels in Morristown Pennsylvania including the mansion that had formally belonged to Robert Morris known as the American financier of the Revolution. . One of the three parcels he purchased was owned by Giovanni Sartori. General Moreau and his family would live on the estate until his untimely death in 1813.
THE CATHOLIC CHURCH IN NEW JERSEY 1800-1814
When Giovanni Sartori arrived in the U.S. the tri-sate area was considered a "missionary" territory by the Catholic Church. There was not a single Catholic Church in the State of New Jersey and the Dioceses of New York and Philadelphia would not be recognized until eight years later in 1808. The first Catholic Church in this area was built in the pre-diocese missionary territory of Philadelphia in 1729. From that point the "Philadelphia" mission territory included and serviced the region known as West Jersey. West Jersey is the area of New Jersey that roughly covers Trenton south to Cape May.
As an envoy of the Vatican, Sartori took his duty to further the interests of the Catholic Church in America seriously. As not a single Catholic Church existed in the State of New Jersey he and his wife opened their "Rosy Hill" mansion for the use of missionary priests. Priests began to arrive at "Rosy Hill" from Philadelphia to conduct Mass once a month starting in 1804 and lasting through 1814. The Diocese of Philadelphia formally came into being in 1808 but Trenton and West Jersey would remain a missionary territory for some time. New Jersey north of Trenton remained a missionary territory of the Diocese of New York which also was incorporated in 1808. As far as the records that I have reviewed the period 1804-1814 marks the first time that Catholic religious services were held on a regular basis in the home of a Catholic in central and southern New Jersey history.
BRIEF RETURN TO ITALY
In 1810 Carlo Sartori died in Italy and Giovanni briefly went back to Italy to settle his father's estate. I haven't located any information on whether in the ten years that Giovanni had been away his father had any additional dealings with Joseph Bonaparte either as King of Naples 1806-1808 or King of Spain 1808-1815. It is possible that Carlo Sartori may have designed some personal jewelry for Joseph during this period. We do know that Giovanni was back in the U.S. by 1811 as he had a son Lewis born in Trenton in 1812.
1813 was an interesting year in several ways, first General Moreau died in Morrisville and Sartori became executor of his estate. In addition the military fortunes of the Bonapartes began to slide in Europe. This was particularly true in Spain where Joseph began to view his reign as coming to an end. Concerned about this Joseph began quietly removing the Spanish treasury to more secure secret locations in France and Switzerland. Both of these events would help shape the future activities of Giovanni Sartori.
THE FIRST CATHOLIC CHURCH IN NEW JERSEY
By 1814 the Catholic population in the Trento area was beginning to grow thanks in part to recently arriving immigrants from northern Europe. Giovanni Sartori found that the limitations of his home made services difficult to continue there. In 1814 Giovanni Sartori and a friend the French commercial sea Captain John Hargous purchased a small plot of land at the corner of Lamberton and Market Streets in Trenton. With their own funds the two men had built a small wooden Church for use by local Catholics. This modest Church then became the first Catholic Church in the State of New Jersey. The building of this Church predates all other Catholic Church construction in New Jersey by several decades. The men choose for the name of the Church Giovanni patron saint St. John the Baptist.
History does not record what the two men spent on the construction of the first Catholic Church but the fact that they could do this is some indication of their prosperity. As further example of Sartori's wealth in 1815 Sartori and another merchant partner by the name of Vanuxen bought the Moreau estate at auction for $52,000. They begin developing mills and subdividing the property much of which would eventually form the present town of Morrisville.
A KING COMES TO NEW JERSEY
With the collapse of Napoleon's army in the face of the combined forces of the Russian, British and Austrian armies, Joseph Bonaparte secretly met in France with James Le Ray in 1815 and bought 26,000 acres of his substantial upstate New York land holding. The purchase was made with several hundred thousand francs which was only a small portion of the millions looted by Joseph from the Spanish treasury. 1815 initially saw the deposed Emperor Napoleon is exiled to the island of Elba.
Napoleon was only briefly confined on Elba, choosing to escape when word reached him that there were plans to remove him to a more isolated island in the Atlantic. News of this impending transfer led in 1816 to Napoleon's return to French soil and the failed attempt to return to power. Napoleon was subsequently exiled to the Atlantic island of St Helena off the coast of Africa where he was closely supervised by the British.
The victorious allied forces reinstated heirs to the Bourbon dynasty as monarch of France and the entire Bonaparte clan was barred from France under penalty of arrest. Joseph after seeing his family exiled safely in Switzerland smuggled some jewels, still only a small part of the Spanish treasury, aboard an American commercial vessel. Travelling under an assumed identity, with only a few bodyguards Joseph secretly left a French port bound for the U.S. It is said that Joseph paid the ship's captain 18,000 francs for passage, the equivalent of around fifty thousand dollars in the currency of the time. He landed in New York and stayed at the Claremont while clearing his presence with U.S. officials. From New York he travels to Philadelphia where he stayed briefly. While in Philadelphia he met a young Quaker store clerk who would become his American mistress, Annette Savage. During is stay in Philadelphia he also decided to locate his primary residence on the Delaware in Bordentown and began purchasing parcels of land there for the construction of his estate.
In 1817 the New Jersey legislature by special Act made Joseph a citizen of the State of New Jersey although not a citizen of the U.S. This allowed him the legal authority to own land in New Jersey outright in his own name.. Eventually, he would accumulate some 1,800 acres in Bordentown and Nottingham townships, now Hamilton Township. His estate which overlooked the Delaware River would eventually consist of several mansions, twelve miles of trails and paths, formal gardens, tunnels leading from the river and connecting between the houses, a man made lake and a lookout tower. He named the estate Point Breeze. Joseph also rented a mansion in Lamberton about three to four miles up river near the estate of Sartori for his mistress. Apparently to fund this purchase and building spree Joseph had to send agents back to Switzerland to smuggle additional jewels to the U.S. There is little written about long term how Joseph Bonaparte maintained his life style in America or how he liquidated jewels in a country whose elite did not express their wealth in the purchase of expensive jewelry. However it is known that Joseph Bonaparte and Giovanni Sartori, a diplomat and jewelers son, became close friends, with Joseph standing as godfather for at least one of Sartori's children over the next twelve years.
With construction of his elaborate and expensive estate on the Delaware underway Joseph next turned his attention on the development of his massive upstate New York land holdings. Joseph Bonaparte went on his first inspection tour of his upstate New York property in 1818. Reports indicate he went with quite an entourage and was quite a spectacle to behold, gilded carriage, extensive wagon train etc. It was during this tour that he hired surveyors, architects and builders to begin development of the 26,000 acres. He also began a process to have the New York legislature pass an Act similar to New Jersey allowing him to obtain title without U.S. citizenship. In the following couple of years he made annual Spring/Summer journeys upstate where he would entertain, hunt and meet with a number of fellow Frenchmen some of whom were investing in land in the area. It is also strongly rumored that Joseph met with several Bonaparte supporters to plan for the eventual rescue of Napoleon from St. Helena where it was said his living conditions were deteriorating. If a plan was in the works to bring Napoleon to the U.S. it never materialized and was ultimately frustrated by Napoleon's death in 1821 on St. Helena at the age of fifty-two.
The reinstatement of the Bourbon line as monarchs in France was not universally approved of in France. Among the various political factions in France was a strong contingent of Bonapartist who favored the return of the Bonaparte line. Many admired Napoleon and believed that he had restored the power, reputation and glory of France as no King had done before him. After Napoleon's death succession would have followed in his son often referred to as Napoleon II. The young Napoleon II was born in 1811 and following his father's defeat subject to and remained a virtual prisoner in Vienna. At the time of his father's death he was still only ten years old. Nevertheless the Bonapartist cause looked to him as a possible return of the Bonaparte throne.
As the 1820's progressed Joseph Bonaparte appears to have become more entrenched in his Bordentown estate. There he entertained, at times lavishly by American standards, many important guests from American political leaders to celebrities of various note. Both of his royal European daughters and several nieces and nephews visited him in Bordentown for extensive periods. His wife however never came and the two remained estranged for almost twenty-five years. During Joseph's initial American stay 1816-1832 he had two illegitimate daughters with his American mistress Annette Savage. The girls were raised in a mansion in Lamberton frequently visited by their father. Sadly, one of the girls died around the age of four in an accident in the gardens of the property.
For Govanni Sartori the 1820's seem to also have been a time of relative domestic tranquility. In all Giovanni's marriage to Henriette produced eleven children between 1805 and 1828, five sons and six daughters. Sadly, Henriette died in 1828 in childbirth, as did the twins she was bearing. Henriette was forty-two at the time of her demise.
THE RETURN OF JOSEPH BONAPARTE AND GIOVANNI SARTORI TO EUROPE
As I previously covered in an article on the Carbonari movement, the period of 1830-1832 saw Carbonari inspired revolts in central and northern Italy as well as in France. The Austrian government was able to effectively crush the revolts in Italy forcing many of the movement's leadership to either flee the country, risk imprisonment or even face execution. Interestingly, the two sons of Louis Bonaparte, Napoleon's younger brother had at some time prior to the start of the revolts emigrated from Switzerland to northern Italy and become involved in the Carbonari movement. The two young men were in their early twenties and quite politically aggressive. Their leadership role was discovered by the Austrian authorities and the two brothers were forced to flee for their lives. Unfortunately they were cut off from Switzerland and were forced to flee to France. They must have been very desperate as all the Bonapartes had been exiled from France and faced immediate arrest upon entering French territory.
In the process of fleeing the older Bonaparte brother, Napoleon Louis became ill and died. His younger brother, Louis Napoleon made it to France safely but was immediately arrested by the French authorities in 1831. Shortly after this Napoleon's son, Napoleon II died in Vienna of TB at the age of 21 without a male heir.
With no living male heir Napoleon's succession passed to his oldest brother Joseph who in 1832 would have been 65 years old. As Joseph had no male heirs next in line would have been his younger brother Louis age 55. Louis did have a son of course but he was now in prison in France. This turn of events appears to have forced the Bonapartist into action.
In 1832 in America in the Trenton area two things occur of interesting note, First Joseph Bonaparte leaves Bordentown hurriedly leaving behind his estates, mistress and daughter and sails for England. Second, Giovanni Sartori leaves Trenton hurriedly taking his two unmarried daughters and sails for Italy. It should be noted that according to local history Sartori's nine other children are said to have all been well placed in occupations and status in the U.S. prior to Giovanni's departure.
In France in 1832 the Carbonari revolt was somewhat more successful than in Italy eventually forcing the abdication of the French Bourbon Monarch and replacing him with a King from the noble house of Orleans. The Orleans Monarchy appears to have been a compromise which allowed the formation of a limited "Constitutional" Monarchy and liberal government. While the political transformation was occurring in France in 1832 apparently the Bonapartists were able to obtain young Louis Napoleon Bonaparte's release from prison and secret him to England. In England he joined up with his Uncle Joseph who had recently arrived from the U.S.
Of the nine children Giovanni Sartori left behind in America my research easily located the history of three, a daughter and two sons. As of 1832 one of Sartori's daughters had married the son of his close friend and business partner Peter Hargous. Together the couple made their residence in New York City. Peter Hargous and his brother formed Hargous brothers shipping of New York. One of Giovanni's sons George graduated from Georgetown in 1828 and Jefferson medical college in 1832. It appears he opened a medical practice in Atlantic County New Jersey in 1832. Giovanni was also able to secure for another son Louis a very hard to get appointment as a midshipman in the U. S. Navy in 1829.
As is clear these early Italian residents in central New Jersey were extraordinary people, very involved in the goings on of their society and the history of the time. Although the above brief histories on these two Italian families in this writing concludes in 1832 their actual history continues and continues to be associated with American and International historic events moving forward. As I continue to write, I will refer to these families as is appropriate to the larger history of the area.
© San Felese Society of New Jersey