The Politics of U.S. Mass Immigration 1840's -1850's
By: Tom Frascella March 2014
American political debate in the 1840's and 1850's was dominated by several key issues, territorial expansion, slavery, immigration and industrialization to name a few. At the beginning of the 1840's there were two major U.S. political parties. The Democratic Party which had evolved from the Jeffersonian organized party originally known as the Democratic-Republican Party and the Whig Party which was made up of some of the elements of the old Federalist Party.
The Whig party succumbed in the late 1840's to the internal divisions created over these major issues especially slavery and emigrant rights. With the demise of the Whig party around 1850 a number of smaller single themed parties stepped into the gap. From these factions two parties began vying for dominance. These two political parties were the American Nativist Party and the Republican Party. The fractionalization created a dicey situation in the 1850's for those former Whigs who were seeking political endorsements. In New Jersey the Democratic Party began to dominate the 1850's political scene. It was virtually impossible for formerly successful Whig politicians to attain office without somehow bridging the differences between the Nativist and Republican factions and forming local coalitions. An interesting example from this time of a successful politician caught on the horns of the dilemma of conflicting political currents in Whig politics is New Jersey's William A. Newell.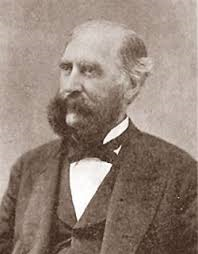 William Augustus Newell (1817-1901)
William Newell was born in Ohio in 1817 to an old New Jersey family which moved back to New Jersey when he was two. He graduated from Rutgers College in 1836 and the University of Pennsylvania's School of Medicine shortly thereafter. Following graduation from medical school he set up his medical practice in Manahawkin New Jersey. For those not familiar with New Jersey's geography Manahawkin is the Town located on the west bank of Barnegat Bay across from Long Beach Island.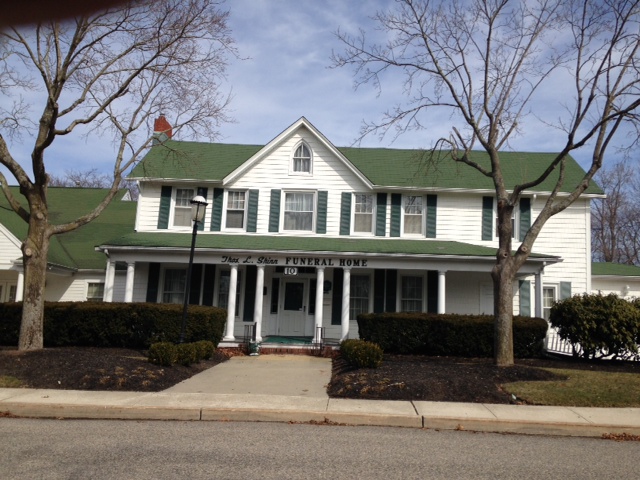 Newell House in Manahawkin New Jersey
New Jersey has approximately 120 miles of coastline along the Atlantic Ocean without counting its bays and rivers. This coastline lies between the major commercial ports of New York City and Philadelphia. From early colonial times our coastline has seen the passage of thousands of vessels, commercial, private, cargo and passenger. The waters off the coast are shallow with sand bars often just a few hundred yards off the beach. This creates a serious danger to vessels especially at night or in bad weather. Over seven thousand ships have perished off the jersey shore. In the days of wooden sailing vessels ships would run aground at night or in storms and often break up in the heavy surf. This despite the fact that the vessels might only be a few hundred yards out. In this era there was no technology to rescue the crew or passengers and thousands drowned.
Living at the Jersey shore and as an early 19th century practicing physician William Newell witnessed first hand the terrible tragedy and loss of life as both commercial and passenger vessels floundered and broke apart in savage storm surf. The sight of dozens and in some cases hundreds of bodies, including children, washing ashore left a lasting impression on young Dr. Newell. An example of the tragic loss of life that occurred during this era was the American passenger vessel "Mexico" which was lost in sight of the beach off the Jersey coast in 1837. All 112 emigrant passengers perished. At the time there were no organized coastal rescue operations statewide anywhere in the United States. Those few very local attempts along the Atlantic coast to provide some organized response in the event of a shipping disaster were not in anyway up to the task. Water safety equipment was practically non existent and a means to reach stranded vessels in heavy surf was beyond the technology of the time.
In 1847 Dr. Newell ran and was elected to the Thirtieth U.S. Congress as a member of the Whig Party which was still functional at this point. It was during his first term in office that he lobbied and succeeded in passing legislation which bears his name the Newell Act. The Newell Act acquired from Congress a grant of $10,000 to build a series of small lighthouse/ rescue stations at twenty mile intervals between Cape May and Sandy Hook, New Jersey. Each station was manned by volunteer watchers and volunteer rescue personnel. The stations operated much like volunteer fire companies today. Each station was equipped with basic rescue gear, a boat with oars, blankets etc. Eventually, also provided was a canon, called a Lyle gun, capable of firing a hook and rope 600 yards. Vessels in the surf within that distance would receive the hook and rope and set up a rope and pulley to ferry crew and passengers to shore often one at a time. Shortly after setting up along the Jersey coast the idea of rescue stations was extended to include the Long Island coastline. The value of the service was highlighted when the Scottish Brig "Ayrshire" grounded in a storm and over 200 passengers and crew were rescued. This was an amazing feat considering the equipment limitations of the time. With this success the concept of rescue stations was eventually extended along the entire U.S. Atlantic coast. From these early stations would develop what became known as the U.S. Life-Saving Service in 1878. This federally sponsored life saving department together with several other rescue and service missions under separate federal departments was eventually consolidated into what today is the U.S. Coast Guard.
Getting back to Dr. Newell's political career, he served two terms in Congress before deciding not to run for reelection in 1850. Of course part of the reason that he did not run was that the Whig Party now fractured with internal strife on the issues mentioned at the top of this article. As a result the Democratic Party swept into power in the State. Out of political necessity Newell was forced to attempt to bring together a Nativist/Republican political alliance within the State. This task was not easily achieved given one Party promoted anti immigrant, anti Catholic sentiment and the other Party was the fledgling anti slavery Republican Party. However, if former Whig politicos were going to succeed in the 1856 New Jersey State election a coalition is what had to be attained. It is to Newell's credit that he was able to broker such a coalition. In fact he was put up as the coalition's candidate for Governor. He won narrowly by only three thousand votes however both houses of the N.J. legislature went solidly to the Democratic Party.
I imagine that Governor Newell must have had some considerable political skill as throughout his term as Governor Newell had to keep his coalition of American Nativist and Republicans together. The coalitions divergent views were not easy top reconcile and in addition he had to work with an overwhelmingly Democratic/Opposition Legislature. During his term of office he successfully pushed the State Legislature to enact balanced budgets, lower taxes, and he encouraged school reform as well as statewide educational improvements. He also promoted some of the Nativist agenda by pushing for stricter naturalization procedures and restrictions on the voting rights of "naturalized" citizens. In effect his actions assured that he was not considered a friend of the growing immigrant population in the State especially among Irish Catholics. The irony being that his initial political actions would, in fact, result in the saving of hundreds of immigrant lives.
Painting himself as a pro-Nativist would come to a political head in an unfortunate incident one year into his term involving a young Irish Catholic by the name of James P. Donnelly. Mr. Donnelly was raised in Buffalo New York and in 1857 was attending medical college in New York City. In the summer of 1857 Mr. Donnelly was vacationing at the Sea View Hotel on the Navesink River in New Jersey. While there the bartender at the hotel an Alfred Moses was stabbed and killed. The proprietor of the Hotel a fellow by the name of Smith stated that he came upon the dying Moses who told him that his assailant was Mr. Donnelly and that an altercation had occurred between Donnelly and Moses over gambling debt from the night before. Mr. Donnelly was arrested and charged with murder although no weapon or other evidence that he committed the crime was ever found. For his part Mr. Donnelly professed his innocence, and there was nothing in his background to suggest a violent nature. In August Donnelly was tried in Freehold before a three judge panel and jury made up of all protestant white males. He was convicted of murder based upon a very little circumstantial evidence and the testimony of Smith. He was sentenced to be hung four months later in January 1858. The New Jersey Irish community took up Donnelly's cause protesting that he did not get a fair trial, that the court was biased and the whole affair was little more than a lynching. In the months proceeding execution Donnelly's appeals were denied leaving as a last resort an appeal to the N.J. Court of Pardons. The Court of Pardons had the authority to commute a death sentence to a sentence of life in prison.
The Court of Pardons was made up of a nine member panel on which the Governor sat. Despite the appeals and protests of New Jersey's Irish community the panel voted against commuting Mr. Donnelly's sentence and he was hung in Freehold in January 1858. The story may have ended there except that Newell insisted very publicly in shouldering credit/blame for casting the deciding vote against commuting Donnelly's sentence. One has to question his political reason for publicly insisting that he had cast the deciding vote as the official record of the panel's decision was not 5 to 4 as Newell asserted but 6 to 2. His vote was not the deciding vote.
The matter was further complicated when ten months later Mr. Smith the proprietor of the Sea View Hotel and only witness linking Donnelly to Moses murder fell ill and on his death bed confessed that he and not Donnelly had stabbed and killed Moses.
The incident did not immediately hurt Newell's political career in New Jersey as the Immigrant Irish-Catholic vote was not that great yet. However, the injustice would follow him as a topic in later elections.
As Governor Newell attended the 1860 Republican Presidential Convention and was an early supporter of the nomination of Abraham Lincoln. After serving one term as Governor Lincoln appointed Newell to a federal position connected to the coastal safety administration. Newell continued his support of Lincoln at the 1864 convention. Some of Newell's obituaries recognize that Newell and Lincoln were friends as well as political allies. I do not believe Lincoln addressed the immigrant voting/citizenship issue much but generally he thought if inconsistent to argue against slavery and in favor of equality for one class of citizen while denying it to another. Lincoln was also aware that at least a tenth of the Union army was Catholic. Newell was returned to Congress on a pro-War/pro Lincoln platform in 1865.
With the end of the war the political climate in New Jersey began to change. First, as the "Grand Army of the Republic" veterans returned to the northeast, the Catholic veterans had a renewed sense of belonging, service to the country and right of involvement. Second, Catholics and in particular Irish Catholics were beginning to attain greater numbers in northern New Jersey and those numbers were beginning affect election results. When Newell ran for reelection in 1866 he lost with the anti-immigrant and Donnelly incident very much a part of the political debate. He sought but did not get the Republican congressional nomination in 1868. He got the nomination in 1870 but lost the election with his past political history again being a significant factor. His last attempt at elective office was running for New Jersey Governor in 1877.His opponent Civil War General George McClellan trounced him. Again his anti-immigrant anti-Catholic political past followed him throughout the campaign.
With the growing Catholic and Irish vote in New Jersey it was clear that his political career in the State was over. This was especially true in Jersey City. Interestingly, in 1880 President Hayes appointed Newell Governor of the territorial State of Washington where he served one four year term. I am not sure but I think he was the only politician to serve as Governor of States on both coasts. In Washington State his term of office became known for promoting lower taxes and coastal life saving measures, programs that he had championed in New Jersey. He also strongly supported the growing temperance movement. More controversial while Governor of Washington he advocated the forced acculturation of Northwest Native Americans. After serving for four years as Governor he was appointed for one year and served as an Indian inspector.
In 1885 he resumed his medical practice and remained in Washington State for the next 14 years until his wife died. At the age of 82 he returned to New Jersey and took up residence in Allentown. He passed away there three years later and is buried in the Allentown Presbyterian cemetery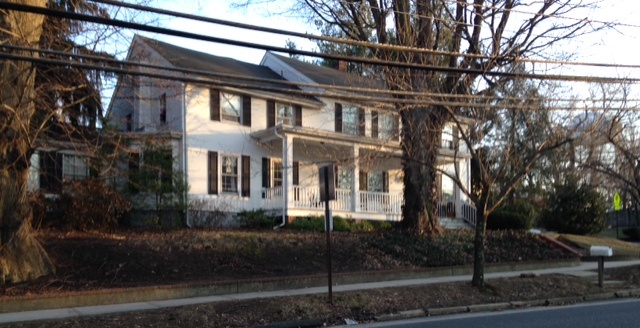 Newell House Allentown New Jersey
A dormitory at Rutgers Cook campus as well as Allentown's elementary school are named for the former Governor.
© San Felese Society of New Jersey