THE CONCLUSION OF JOSEPH BONAPARTE'S
AMERICAN ADVENTURE
BY: TOM FRASCELLA NOVEMBER 2013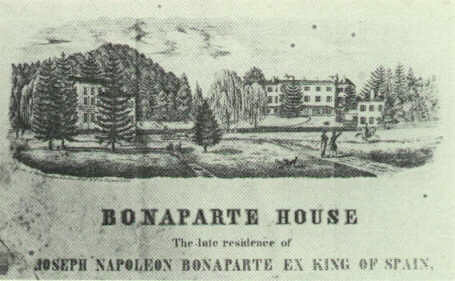 Drawing of Point Breeze Mansion
In an earlier article we wrote of Joseph Bonaparte leaving his estate in Bordentown, N.J. and going to England in 1832 in order to deal with family matters concerning his nephew. While there, he appears to have lent both political and financial support to his nephew Louis-Napoleon's political ambition which culminated in a failed coup attempt in 1836 to regain the French crown. Following, this failure Joseph returned briefly to Bordentown, 1837-1839. During this period Joseph began to settle his American affairs. It is clear that by 1837 Joseph's intent was to reconcile with his wife and further the Bonaparte ambitions in Europe.
As part of his American house cleaning his American mistress received a substantial sum for life time support, while his natural daughter by their relationship received a large grant of land in upstate New York. During this time Joseph broke up the 50,000 acres he owned and sold off most of the upstate New York estate.
Part of his time was spent directing legal efforts to divert a threat which would have greatly reduced the value of his Bordentown estate. The Camden-Amboy railroad owned by the Stevens family sought to obtain a public transportation condemnation for an easement through Point Breeze estate for a rail line going from the river line port northward toward the Amboys and Raritan Bay. Joseph was successful in defending the land grab by the upstart Camden-Amboy railroad. His successful defense left Joseph Bonaparte's New Jersey estate, which included a main house, several smaller houses, furniture, art work and roughly 1,800 acres, fully intact.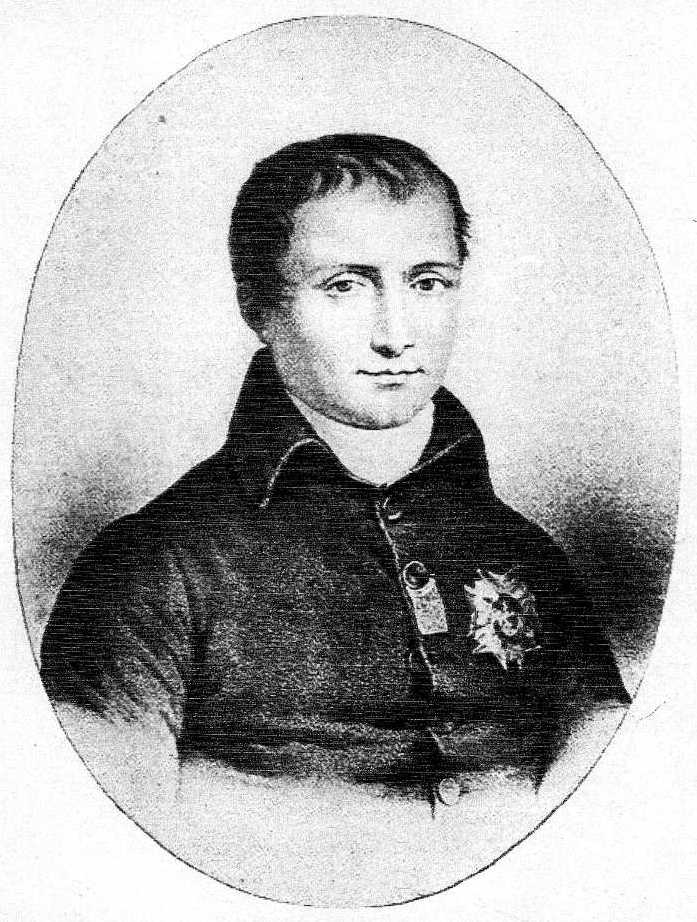 Photograph of Joseph Bonaparte
In 1839 Joseph returned to Europe and eventually reconciled with his wife. He spent the last years of his life living at the family estate in Florence where he died in 1844. In his will he left Point Breeze to his grandson Joseph Lucien Bonaparte. In 1847 Joseph Lucien Bonaparte journeyed to the United States to arrange the sale of Point Breeze.
From a historical perspective the sale of Point Breeze in 1847 is interesting for two reasons. First, it was concluded on the eve of the Carbonari revolts that swept across Europe and brought Louis Napoleon Bonaparte, Joseph's nephew, into power in France. Second, the records from the sale offer an interesting if small glimpse at just how much plunder the Bonaparte's must have amassed during the brief period that Napoleon Bonaparte was in power. Further the inventory from the sale clearly indicates just how affluent and extraordinary Joseph's living style had been in relation to his American neighbors. This being true even though the inventories were generated at a time when Joseph Bonaparte had not added to the American estate in the nearly fifteen years as he had been living abroad.
It has been written in many historical sources that while Joseph resided in Bordentown he was a gracious host to many of the most important American politicians and wealthiest Americans of the day. He also was host to many important foreign guests as well. The opulence of his estate in comparison other American abodes impressed all who set foot on his estate. In fact it could be said that he set the fashion standard for the Philadelphia "in" crowd.
In 1847 the physical estate at Point breeze consisted of 1,800 acres located and spread out in what today would be Burlington and Mercer Counties. Bonaparte's first mansion on the property burned down in 1820. He immediately constructed a second mansion on the property which was said to have been inspired by Joseph's chateau in Prangins, Switzerland a location where he had briefly resided in exile. Eventually, he also had built a guest house in which several of his relatives would stay on visits including his two legitimate daughters when they came from Europe. This is how one of his daughters bears the distinction of being the first woman to ride a rail locomotive in the U.S. in 1832. Also one of his grandsons was born at the Bordentown estate. The two main houses on the property were connected by an underground tunnel. The tunnel also proceeded to the river landing allowing for guests and supplies to be ferried to the houses without exposure to the elements. The houses contained many opulent furnishings and original pieces of art. The grounds themselves were landscaped in the French style. Bonaparte had a manmade lake created, with a bridge across, planted gardens and forests and over twelve miles of walking and riding trails. It is said that at the time of construction of the estate Joseph Bonaparte over $300,000 in 1820's dollars.
Joseph Bonaparte enjoyed surrounding himself with the finest of handcrafted European furniture, gold plate dinnerware and fine art. During Joseph's time spent in Bordentown he generously allowed the Philadelphia Art Society to display a number of art pieces from his Point Breeze estate. At the time of the sale of the property most of the furnishings were sold through the auction process. It is said that they sold well as many people sought to own a piece of the estate given the history. Many of the furnishings have made their way to museums throughout the United States. On a recent trip to the Philadelphia Art museum I was able to view dozens of pieces that had come from the estate that are on permanent display. At the time of the sale in 1847 Point Breeze contained the largest and most expensive collection of fine Art in any private or public collection in the United States.
As an example of the quality of the art and furnishing which was housed in the mansion a brief list follows;
Paintings
Napoleon Crossing the Alps, by Jacques Louis David
Two Lions and a Fawn, by Frans Snyders
La Toilette de Psyche, by Charles Joseph Natoire
Several portraits of the Bonapartes, by Francois Gerard
Tarquin and Lucretia, by Titian
Adoration of the Shepards, by Anton Raphael Mengs
At the time of the sale of the estate Bonaparte's Point Breeze private library was also sold. Catalogs from the sale indicate that Joseph's private library consisted of 8,000 volumes. In 1847 the United States Library of Congress contained only 6,500 volumes.
In all no private collection or public collection of furnishings and art in the United States could even come close to Joseph Bonaparte's Point breeze collection. All the more amazing in light of the fact this estate was one of many estates he controlled. Most of his holdings were in Europe and housing far more priceless furnishings and greater value.
While Napoleon obviously was the more famous of the Bonaparte brothers and elevated the family to high status, his older brother Joseph was the brother that kept an eye on money. It would be Joseph's efforts that kept the family in position for the rise of his nephew as Napoleon II.
While you would think that the death of Joseph Bonaparte in 1844, the sale of his U.S. holdings and the death without issue of his American daughter would be the end of the Bonaparte connection to the U.S. It is not. While Joseph was residing in the U.S. his youngest brother Jerome visited the United States. While here he fell in love with a young American woman Elizabeth Patterson and married her. The Bonaparte family, Napoleon I, was opposed to this marriage and forced an annulment. However not before his soon to be ex-wife was with child named Jerome. A substantial sum in support of the child was given to the woman who ultimately raised the child in Baltimore. Because of the annulment no royal titles passed on to Jerome. Jerome in turn also married an American woman and had two sons Jerome Bonaparte II and Charles Joseph Bonaparte.
Jerome graduated from West Point and for a time served in the U.S. Army. Eventually he immigrated to France where he served in the French army of his cousin Napoleon III.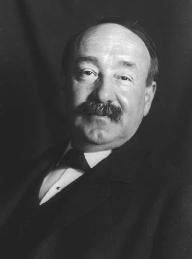 Photograph of Charles Joseph Bonaparte
Charles Joseph Bonaparte graduated from Harvard University and Harvard Law School. At Harvard he became a close friend of fellow student Theodore Roosevelt. When Roosevelt became President of the United States Charles was appointed Secretary Of the
Navy in 1905. He held that position for one year before being appointed by Roosevelt as Attorney General of the United States from 1906-1909. In this position he directed his office in support of Roosevelt's Trust/Monopoly busting endeavors. As part of this effort Charles Bonaparte found it necessary to bolster the Federal investigative authority to augment prosecutions. He created the Bureau of Investigation which reported directly to the Attorney General. This department within the Justice Department was renamed the Federal Bureau of Investigation ( F.B.I.) in 1935. As a result Charles Bonaparte is considered the founder of the F.B.I.
Throughout his life Charles was involved in both national and local politics. In addition to holding several local offices Charles was one of founders of the National Municipal League. He was also an advocate for Civil Rights his politics were considered quite liberal at the time.
© San Felese Society of New Jersey